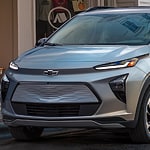 The 2022 Chevrolet Bolt EUV's standard equipment includes digital gauges and a 10.2-inch infotainment touchscreen with built-in temperature controls. Additionally, it can park itself and be charged wirelessly via an inductive coil.
The Bolt EUV has many advanced features in the form of automated parking and steering systems, a tank sway-control system and rearview cameras. The head-up display will show you the speed and range remaining with your battery by turning on your headlights. It also has a regenerative braking system that automatically recaptures energy while driving, which helps extend your vehicle's range.
The steering wheel adjusts up and down, as well as in and out, which makes it easier to get comfortable behind the wheel. The car's driver-assist technology includes adaptive cruise control, forward collision alert, lane departure warning and lane keep assist.
There is also a keyless entry with a push-button start/stop. Other convenience features include remote vehicle access via your smartphone, automatic climate control as well as a power driver's seat for comfort on longer drives.