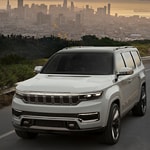 The Grand Wagoneer is very impressive, and we're so pleased that it's back on Cambridge roads. It has many high-end features inside and outside its cabin, along with excellent capability.
At Dunning Motor Sales, we offer the choice of a 6.4-liter V8 or a twin-turbo I6 engine. Either way, you can take advantage of four-wheel drive. The V8 delivers 471 horsepower and 455 pound-feet of torque, and the twin-turbo will provide you with 510 horsepower and 500 pound-feet of torque. The ride around town can be smooth, thanks to an electronically controlled air suspension.
You'll love the leather, walnut, suede and metal found in various places in the cabin. Every component serves a useful function and looks beautiful at the same time. The spacious cabin can accommodate up to eight people, and some of the available features include front seats with a massage function, personalized ambient lighting and several large screens.